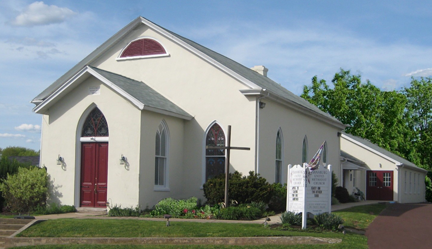 Evansburg United Methodist Church is a growing church with a big heart located in the Evansburg Community of Lower Providence near Collegeville in Pennsylvania. Our Church supports a variety of activities for young and old, and numerous ministries including the UMC Red Bird Mission in Beverly, Kentucky, Haws Avenue UMC Soup Kitchen, Jerusalem Food Pantry and St. James Outreach House. We belong to the Central District of the Eastern Pennsylvania Conference of the United Methodist Church.
Our church is a member of the Collegeville-Trappe Ministerium, which from time-to-time holds ecumenical community worship services. These services can occur during Lent, Holy Week, Thanksgiving, Advent and Christmas. Members of the Evansburg congregation get to worship at churches of other denominations and other churches get to experience worship at Evansburg. Check our calendar for the next community service.
History
Evansburg is one of America's earliest planned villages. The village features excellent examples of eighteenth and nineteenth century rural architecture. The eight-arch stone bridge on Germantown Pike, which crosses Skippack Creek, was constructed in 1792 and is included separately in the National Register of Historic Places. It has been termed "the oldest bridge of its size in continuous heavy service in America." The Germantown Pike, which runs through Evansburg, and on which our church is located, has been for over three centuries one of the most important transportation arteries in southeastern Pennsylvania.
In 1836 Rev. R. Reed organized our first congregation. He appointed Ezekial Band as our first class leader. The members first met at the home of George Wolf. In 1841 the church building was completed and we were chartered as Evansburg Methodist Episcopal Church. In 1939 we became Evansburg Methodist Church as a result of the reunion of the southern and northern branches of the Methodist Church. In 1949 the Wesley room (now the middle room) was built. As a result of the union of the Evangelical United Bretheren Church and the Methodist Church in 1968 we again changed our name to Evansburg United Methodist Church. In 1999 the Fellowship hall was built. In 2007 the parking lot and driveway were paved for the first time. In December 2008 a fire in the sanctuary resulted in a complete renovation and restoration. The rededication occurred on Palm Sunday 2009. In 2011 we celebrated our 175th anniversary.